Overview
Boatspeed Components Overview
Overview
Main Menu
From the navigation drawer you reach all components of Boatspeed: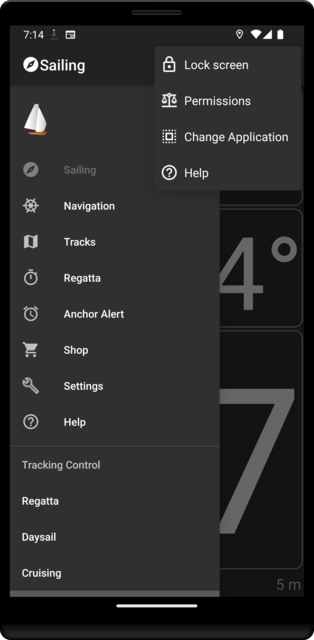 Follow the links to find detailed imformation on the components:
(1) Sailing
Use your phone as a display instrument when boating. Sailing shows speed, course and heeling in a big font.
(2) Navigation
Navigate with the map of OpenSeaMap. Create your own routes.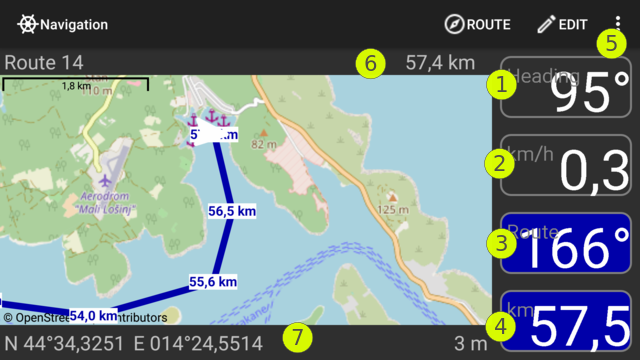 For details on navigation see navigation
(3) Tracks
You may track your trips and view, edit and export you tracks in the tracks component.
(4) Regatta
Regatta start countdown, see details.
(5) Anchor Alert
lets you sleep at night and watches your anchor position. Find details here.
(6) Help
Shows this help.
(7-10) Tracking Control.
Starts and stops tracking in three different modes. See tracking.
(11) Options menu
A tap on the thee dots opens the options menu.
.
More Features
Lock Screen
In the views Sailing and Regatta you'll find the option to lock the screen here.
Screen lock prevents you from unwanted app actions, for example by water or rain falling at the display. When activated all app-actions are locked and can't execute. Please note that buttons outside the app will still be active.
To exit from screen lock bring the app to the background, rotate the device or hit the device's "back" button.
Speech
For the regatta countdown and the sailing view you may enable speech output, meaning that you phone tells you when to start and what's your current speed. Enable speech in the corresponding settings - dialogs of regatta - countdown and sailing.
Night Mode
Some screens provide a night mode, meaning all wordings are in red instead of white color. See: sailing.