Overview
Boatspeed Components Overview
Overview
Boatspeed offers several funtions as: Display speed and course, navigate with open sea map, track, anchor alert, regatta countdown and more. Each function has its own view. To change function use the drawer menu:
Drawer Menu
From the navigation drawer you reach all components of Boatspeed. To open the drawer menu tap at the headline (here: Sailing) or use the three dots-menu Change Application.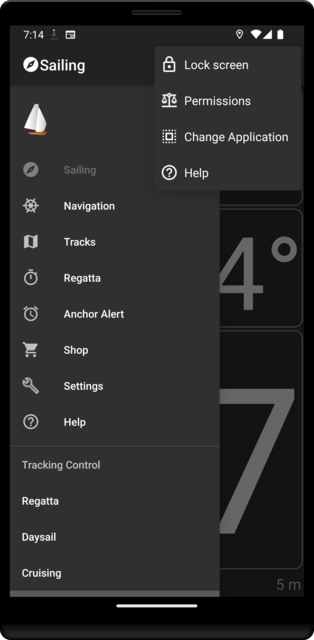 The drawer menu opens. Follow the links to find detailed information on the components:
Sailing: Use your phone as a display instrument when boating. Sailing shows speed, course and heeling in a large font size. Together with the integrated weather forecast it also displays VMG (velocity made good) and turn. See Sailing for details.
Navigation: Navigate with the map of OpenSeaMap. Create your own routes and waypoints. For details see navigation.
Tracks: You may record your trips and view, edit and export you tracks in the tracks component.
Regatta start countdown, see regatta.
Anchor Alert lets you sleep at night and watches your anchor position. Find details here.
Shop: Buy additional features and enhancements in the shop.
Settings: General settings for all views. See settings.
Help: Shows help.
Tracking Control: Starts and stops tracking in three different modes. See tracking.
Current Position

At the bottom your current position is shown. To change the formatting of the gps coordinates see settings. To share your position long tap at the field, the device's share view will appear. Here you may also open your current position to Google Maps if installed.
At the bottom's right side the gps' accuracy in meters is shown. If the accuracy is less than 6.5 m it is probably insuffisant for nagivation and shown in read as a warning.
In case of bad gps accuracy the app tries to smooth the values for speed and heading to prevent from heavy jumping of the values.