Settings
The settings-dialog provides configuration that is valid for all of the views. You can reach the settings dialog from the drawer menu at the left by pressing the "settings" button.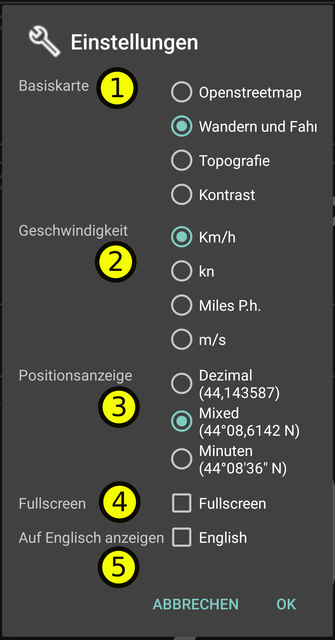 (1) Configure your basic map. Choose between openstreetmap, bike and hike, topography and an experimental contrast view.
(2) Choose your distance and speed format; posible values are metric (km/h), nautic (sea-miles and knots), miles and scientific (m/s).
(3) Format of the positions (longitude, latitude) as shown.
(4) Toggle fullscreen mode.
(5) Don't use machine translation, but always show app in english. You may skip the machnige generated translation if it does not fit for you. This switch is only visible when english is not your default language.
Please don't forget to confirm your choice by clicking "OK" (5).